WWE is on the verge of hitting a huge milestone for WrestleMania 39 ticket sales. Without a single match announced, WWE has sold nearly 100,000 tickets for the two-night event.
Pro wrestling's biggest show of the year is still three months away, but it will be here before we know it. WWE holds multiple stadium shows throughout the year, but WrestleMania taking place over two nights insures this will be the company's grossing event of the year.
'WrestleMania Goes Hollywood' on Saturday, April 1 and Sunday, April 2 at SoFi Stadium in Inglewood, California. Our friends at Wrestletix have been tracking the WrestleMania ticket sales and according to their data, first batch of tickets are nearly sold out.
WrestleMania 39 Tickets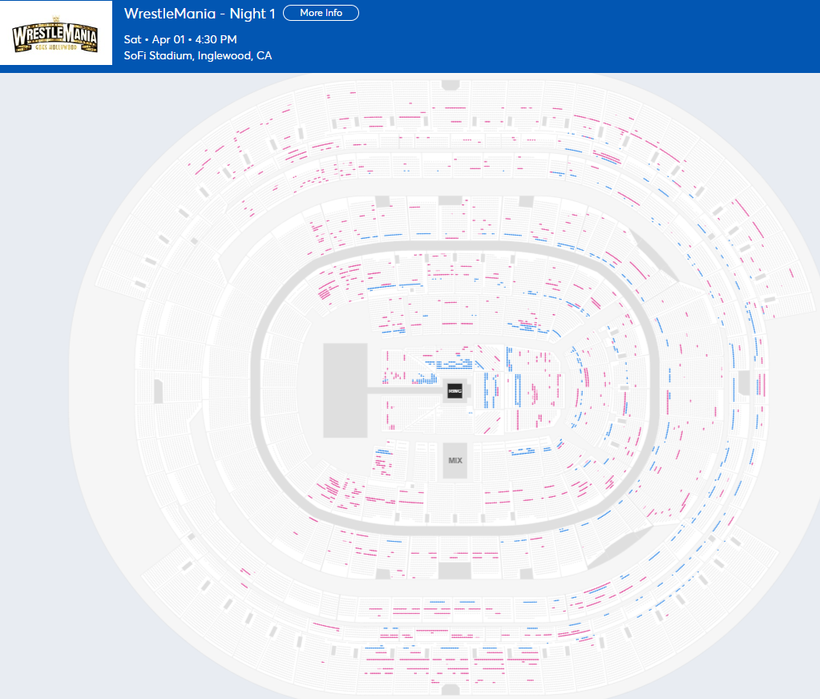 If you are interested in attending WrestleMania 39, you should act fast. A limited number of WrestleMania tickets are still available. You can purchase tickets for Saturday night, Sunday night or a combo pack for both nights.
SoFi Stadium has a maximum capacity of over 100,000 people, but the venue is currently configured for 51,146 fans. We're fast approaching a sellout for both nights.
Here's an updated look at where things stand as of Monday, January 2:
WrestleMania Saturday: 49,584 tickets distributed (97%) with 1,562 still available and 3,164 for sale on the secondary market (StubHub, etc.).
WrestleMania Sunday: 50,114 tickets distributed (98%) with 1,032 still available and 3,246 for resale.
WWE does not want to leave money on the table, in the event that WrestleMania 39 sells out several months before bell-time. In cases like this, we've seen WWE open up more sections to meet the demand.
Support Wrestletix on Patreon for more pro wrestling ticket sales metrics.