WrestleMania 36 will STILL go ahead. It will now take place over TWO nights, on Saturday, April 4 and Sunday, April 5.
The company has resorted to its contingency plans and will no longer host the event at Raymond James Stadium in Tampa, Florida.
WrestleMania 36 will instead take place at its Performance Center in Orlando, Florida, on a closed set with NO live audience
WWE Championship: Brock Lesnar (c) vs Drew McIntyre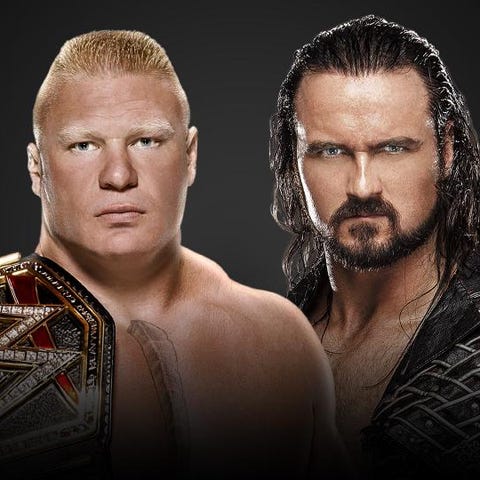 After Brock Lesnar squashed Ricochet at Elimination Chamber, this match pencilled in after the Royal Rumble was made officially official.
And when you look at it, this is one hell of a contest. Effectively, two of Vince McMahon's most Chosen Ones doing battle on the grandest stage of them all.
While Brock Lesnar immediately made good on Vinny's hopes (twice over) to dominate the WWE, Drew McIntyre burned sort of brightly and briefly before slinking down the ranks with 3MB and eventually being released.
But on his departure he kept his head down, worked hard, earned his way back into the company via NXT, came back ONCE MORE from a hefty injury, and has done a fair amount of toil on the main roster before his Royal Rumble win.
And here we are. Brock Lesnar vs Drew McIntyre. It may not have the more obvious romance of KofiMania, but the story is every bit as deep.
Are we about to get our first British WWE Champion? Can Drew really overcome someone as powerful as Brock Lesnar?
We're sticking our necks out and saying YES. The likes of Goldberg, Seth Rollins and Roman Reigns have shown that Brock is beatable, and Drew has enough hunger, ability and hard-hitting power to be the man to do it.
PREDICTION: Drew McIntyre
NXT Women's Championship: Rhea Ripley (c) vs Charlotte Flair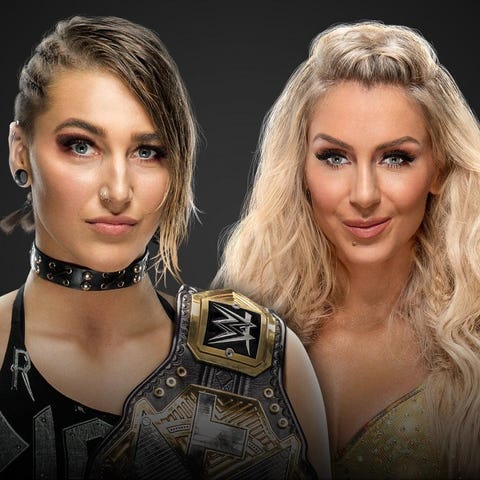 A match that is somehow totally from left-field and yet makes perfect sense all at the same time.
The Women's Royal Rumble winner Charlotte Flair has her pick of the Raw or SmackDown championships to fight for at WrestleMania and went ahead and chose… the NXT Title.
Well, why the hell not?
Since going live on network TV, NXT has established itself as a legitimate third brand. If it's good enough for Finn Bálor, it's certainly good enough for Charlotte Flair.
What's more, Rhea and Charlotte have history brewing from that triple-brand Survivor Series, and let's not forget that it was NXT who came out on top of that scuffle.
In terms of talent, this could go either way. Charlotte has a lot more to lose though. Having chosen to "step down" to fight for the NXT title, anything less than a win will be unacceptable.
So we're going for Flair here to add a second NXT Championship reign to her previous 2014-15 stint, and change that third brand forever.
PREDICTION: Charlotte Flair
WWE Universal Championship: Goldberg (c) vs Roman Reigns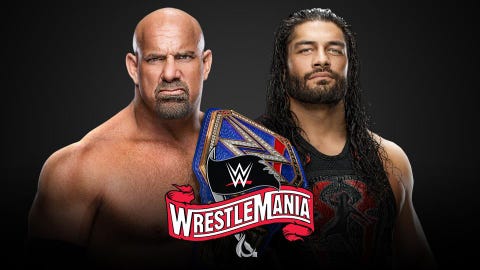 Roman Reigns has been away from the title picture for a long, long time.
And while many predicted that he'd get another shot at the big time come WrestleMania 36, few thought this would be his opponent.
Not for the first time, Goldberg shocked the world on his WWE comeback, dethroning 'The Fiend' Bray Wyatt in Saudi Arabia to become a two-time WWE Universal Champion.
While 'The Fiend' shrugged his claws and moved on with almost indecent haste (see below), Goldberg's question as ever wasn't Who's Been, but Who's Next.
He got his answer pretty quickly.
Roman Reigns stepped up, and it looks like we're going to have the Battle of the Spears in Tampa Bay.
Given his ability to pull victories out of nowhere, only a fool would totally discount Goldberg, but we think Roman Reigns will be more than ready for him.
If he can dodge or survive an early onslaught of Spear and Jackhammer attempts, then Roman has youth, hunger and technical ability on his side.
Let's just hope this is kept away from the main event.
PREDICTION: Roman Reigns
John Cena vs 'The Fiend' Bray Wyatt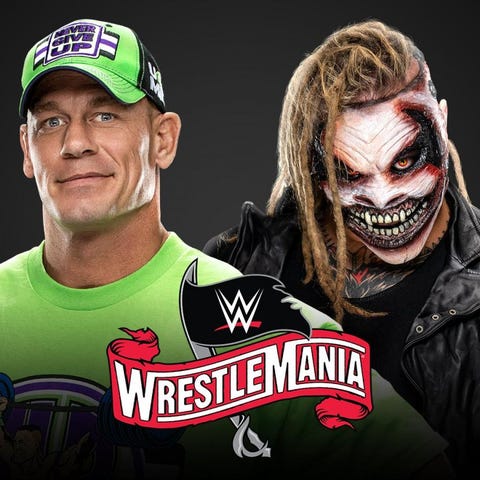 While many predicted this match a while ago, we thought the WWE Universal Championship would be on the line.

But Goldberg had other ideas (see above), and the story of John Cena chasing a record-breaking 17th title while Bray Wyatt sought the ultimate revenge for WrestleMania XXX and all that was denied.
Instead we have half the story. 'The Fiend' seeking to do what plain old Bray Wyatt couldn't six years ago (and in the years since) and put away John Cena.
Most will predict that 'The Fiend' will bounce back and get a strong win to restart his reign of terror on WWETV.
But what if that's not what he's looking for at all?
Maybe 'The Fiend' lost that match against Goldberg for a reason.
Maybe all 'The Fiend' wanted was a match against his greatest nemesis, to win that conversion to the dark side.
Maybe Bray Wyatt will be more than happy to lose to John Cena, if he succeeds in taking him all the way through the looking glass, and into the Fun House?
PREDICTION: John Cena
WWE Raw Women's Championship: Becky Lynch (c) vs Shayna Baszler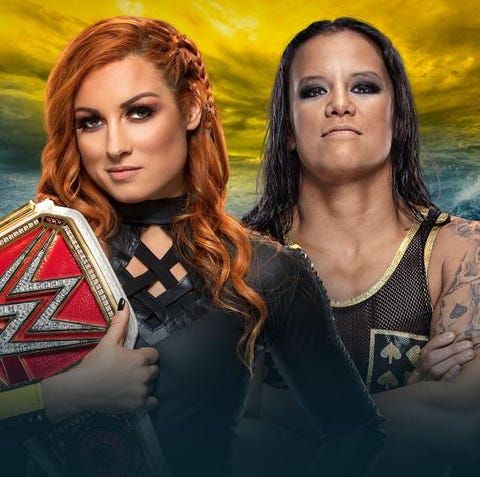 When Becky Lynch headlined WrestleMania 35 alongside Ronda Rousey and Charlotte Flair, she was probably the favourite to come out on top in their Triple Threat Winner Takes All Match.
And win she did, and although she lost the WWE SmackDown Women's Championship soon after (Becky Two Belts no more), she's held on to the Raw strap for over 300 days now, smashing the record by ages.
Assuming nothing untoward happens between now and Mania, she'll be just shy of a full calendar year with the title come WrestleMania 36, having shrugged off challenges from Lacey Evans, Natalya and, of course, Asuka.
But this will surely be her biggest challenge yet, and if you'll excuse the pun, it feels like no-one is as hungry for victory as Shayna Baszler.
THAT bite is one of the most memorable recent moments in WWETV, and it seems to have shaken something in Becky Lynch.
The Man has been pushing for a match with Shayna and at Elimination Chamber she got her wish when the former NXT champ utterly destroyed all the challengers and punched her ticket to Mania.
But Bex may well have (ahem) bitten off more than she can chew here. This will absolutely be her biggest challenge of the last 12 months, and after a bruising year, we're not sure she'll come out unscathed.
PREDICTION: Shayna Baszler
WWE SmackDown Women's Championship: Bayley (c) vs Sasha Banks vs Lacey Evans vs Tamina vs Naomi (vs Dana Brooke?) [Fatal 5-Way (Six Pack Challenge?) Elimination Match]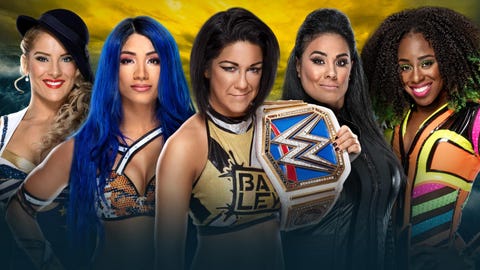 In some ways, this feels like a WWE Divas Throwback, and not in a good way at all.
Rather than build a 1 vs 1 match for the champ Bayley to defend her title on the Not-so-Grandest Stage of Them All, we've got a bunch of women smooshed into a match with a less-than-funtastic stip.
There's a bit of confusion at the moment about whether or not this is a Fatal 5-Way Elimination Match or a Six Pack Challenge.
The latter was originally announced, but on WWE.com Dana Brooke has suddenly disappeared.
Let's hope she reappears, as she's a hardworking talent who deserves her spot on the Mania card.
Anyway, while this isn't the Bayley vs Sasha singles match we're all gagging for, there's plenty of talent on show and stories there to be told.
Bayley/Sasha (of course). A resurgent Tamina. Naomi always inches away from gold. And Lacey Evans try try trying again to finally land the big one.
So despite our reservations, we think this could be good fun, but perhaps as a starting point for some great storytelling, rather than the endpoint.
PREDICTION: Sasha Banks
The Undertaker vs AJ Styles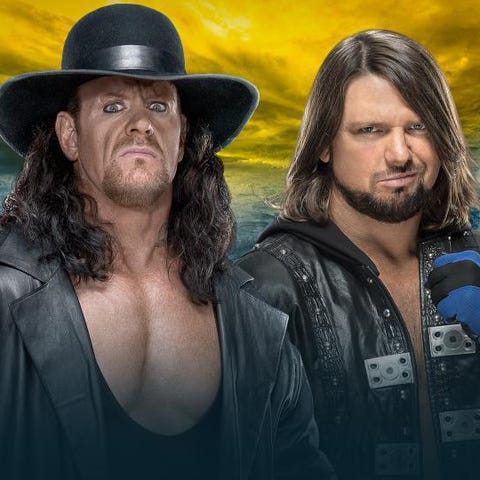 After sitting out WrestleMania completely last year, it wasn't a given that The Undertaker would be rocking up come Mania time this year.
But he's decided to take time out from his regular trips to Australia and Saudi Arabia to go face-to-face with AJ Styles.
The Deadman snaffled the Tuwaiq Trophy from under AJ's nose in KSA, and ever since then the bad vibes have increased exponentially between these two.
Styles has dragged things into the "real world" by bringing up The Phenom's real-life wife Michelle McCool.
What's more, he's even threatened to put the Deadman down for good, pledging to do what Brock Lesnar, Roman Reigns and the rest haven't and finally retire The Undertaker.
Taker has had (most of) the edge since this kicked off, but he's also had (most of) the element of surprise.
We expect a fully prepared AJ Styles to do what only two men before have managed and beat The Undertaker at WrestleMania.
But we also expect Taker to carry on… until Survivor Series for his 30th anniversary where he'll bow out for good.
PREDICTION: AJ Styles
Kevin Owens vs Seth Rollins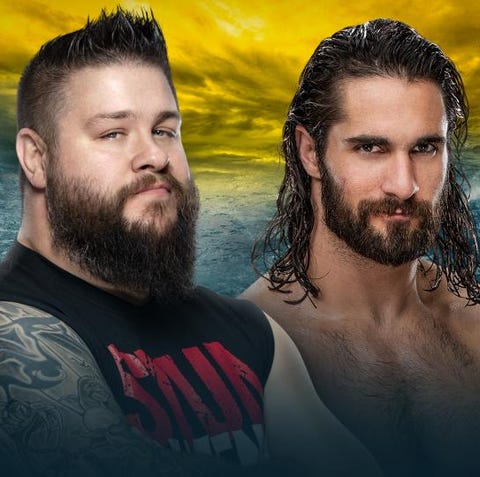 Talk about a slow build. This one has been rumbling on in the background of Monday Night Raw since all the way back at Survivor Series 2019.
Raw captain Rollins questioned KO's loyalty to the brand, and later suffered a Stunner for his troubles.
In turn, Rollins set AOP on Owens, later enlisting Buddy Murphy as one of his disciples too.
They combined to nudge KO out the Rumble, but Owens had a measure of revenge by getting involved a Elimination Chamber to stop Murphy and Rollins regaining their tag belts.
The self-proclaimed Monday Night Messiah is predictably NOT PLEASED. He wants this done and dusted, and challenged Owens to a match at WrestleMania.
KO accepted, and now has a chance to finally put an end to Seth's burgeoning cult. We fancy him to do it, too, riding a wave of goodwill from the WWE Universe (even if they can only cheer him on from home) to get himself back into title contention.
PREDICTION: Kevin Owens
Edge vs Randy Orton [Last Man Standing]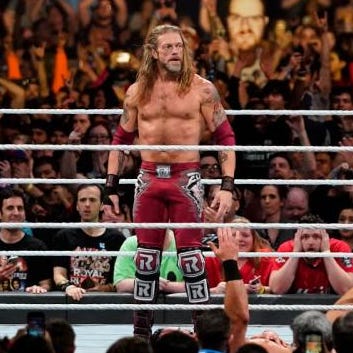 Okay, this one isn't officially official just yet, as Randy Orton is yet to respond to Edge's challenge, but c'mon.
After these two have been going back and forth (and Randy GIVING AN ACTUAL RKO TO EDGE'S WIFE BETH PHOENIX), there's no reason for this not to happen, so we can assume it's a lock and let's do just that.
To recap, Edge returned to the WWE in maybe the biggest ever Royal Rumble shock in history, as we all thought his neck was still pretty much made out of paper after several ops and the whole being retired for NINE years thing.
But return he did, having a great showing at the Rumble, lasting 25 odd minutes before being thrown out by Roman Reigns.
The WWE Universe was ecstatic, but after initially enjoying the comeback Randy Orton was shocked to learn that Edge actually planned to… stick around.
Apparently he cares too much for the grizzled 46-year-old to hurt himself in the ring. To prove it, he's going to hurt him plenty first and force him to retire all over again.
Well, that's what he thinks.
Sure, at his age and with his medical history, Edge isn't going to last forever, but heck. He's still eight years younger than The Undertaker, and technically WAY fewer miles on the clock, too.
So he won't be in a hurry to hang up his boots again just yet. And riding a wave of energy and adrenaline, we fancy him to shock The Viper and maybe make RKO (no spring chicken at 39 himself) consider his own future.
PREDICTION: Edge